I thought I'd post a few cute Christmas Gifts that I made this year for Christmas, These would be great for friends, neighbors, co-workers etc...
This first one I thought of early one morning taking MR C to school. It may not be original I've apparently have an addiction to
Pintrest
and so may have seen it somewhere on there. I took these with my phone so the picture quality isn't the best but you get the idea.
Ok So I was singing (very off key) and driving home to finish getting ready for work when I thought "MUFFIN" and Nothing sounded awfully similar! (I think I may have holiday ADD). Anyway this little gift Idea came to mind. Muffin mix with this note:
When Santa asked me what I wanted for Christmas this year
I replied, I wanted "MUFFIN" more than for my friends and family to be blessed!
And so the quick crafting began
I made a postcard sized label/card printed and mounted it on construction paper (cause that's what I had available) I bought some quick mix muffin mix blueberry (cause that's what our Walmart had!) then I bought a bunch of gift bags, (you could always use cute Christmas Lunch sacks or plain ones and decorate them!)
Viola! A Cute, Cheap, Christmas Craft/Gift to share!
This first one is the finished product all packaged up and ready to be delivered!
This is the card/label I added to the front of each gift bag!
This next one I know I saw somewhere else! (I however forgot to take pictures of my own so I swiped some from the internet!) Mine were just as cute!
For this you need a wisk, some baggies, or small cellophane bags, ribbon, and individually wrapped candy.
I added a little card/label that said:
We "WHISK" you a Merry Christmas!
First get a whisk (I bought mine at the Dollar General)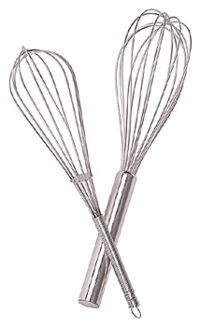 Fill the baggie.cellophane bag with candy. Used the snack size Hershey bars, Reeses Peanut Butter Cups, and York Pepermint Candy bars, as well as some of my favorite Peppermint Kisses
I added some curling Ribbon!
Viola!
Love it! I am working on some more for my families Gift Exchange when we go to Ohio!
Here's a Hint at what they are:
Hillbilly Smore's (for the White Elephant Exchange)
Tween Girls Fun!
Family Movie Night in!
I am hoping to be able to share them here soon! But I gotta get some housework (UGH!) done and get ready for a fun night with some Middle School and High School Girls at our annual Sock Exchange Party!
Have a Beautiful Day!
Christina